The Excel spreadsheet is the de-facto format for business reports for many progressive organizations. In our webinar we demonstrated how you can generate native Excel files from Jira issues, so you can analyze your Jira data with Excel's features.
A solution for creating business reports from any Jira data
In our webinar we introduced the Jira app called Better Excel Exporter as a solution for BI reporting on Jira data.
We compared the currently available Excel (or Excel-like) exporting options in Jira. Then we walked through the steps that you typically should take after installing the app. We explained how you can export a simple list of issues to Excel, as well as from other Jira screens like Agile boards or Service Desk queues. Many export and report examples were presented in order to demonstrate the infinite flexibility of Better Excel Exporter.
Missed the live webinar? Watch the recording below!
Then we looked at what administration options are there, and how you can use automation options (mainly by utilizing the Automation for Jira and ScriptRunner for Jira apps) to make your job faster and more efficient. Finally, we mentioned our technology partners, other Jira apps that Better Excel Exporter integrates with.
If you watch the webinar recording, you get a really good understanding of why Better Excel Exporter is the most advanced app for exporting Jira data to Excel and it will also help you decide if it fits your use case.
Webinar recording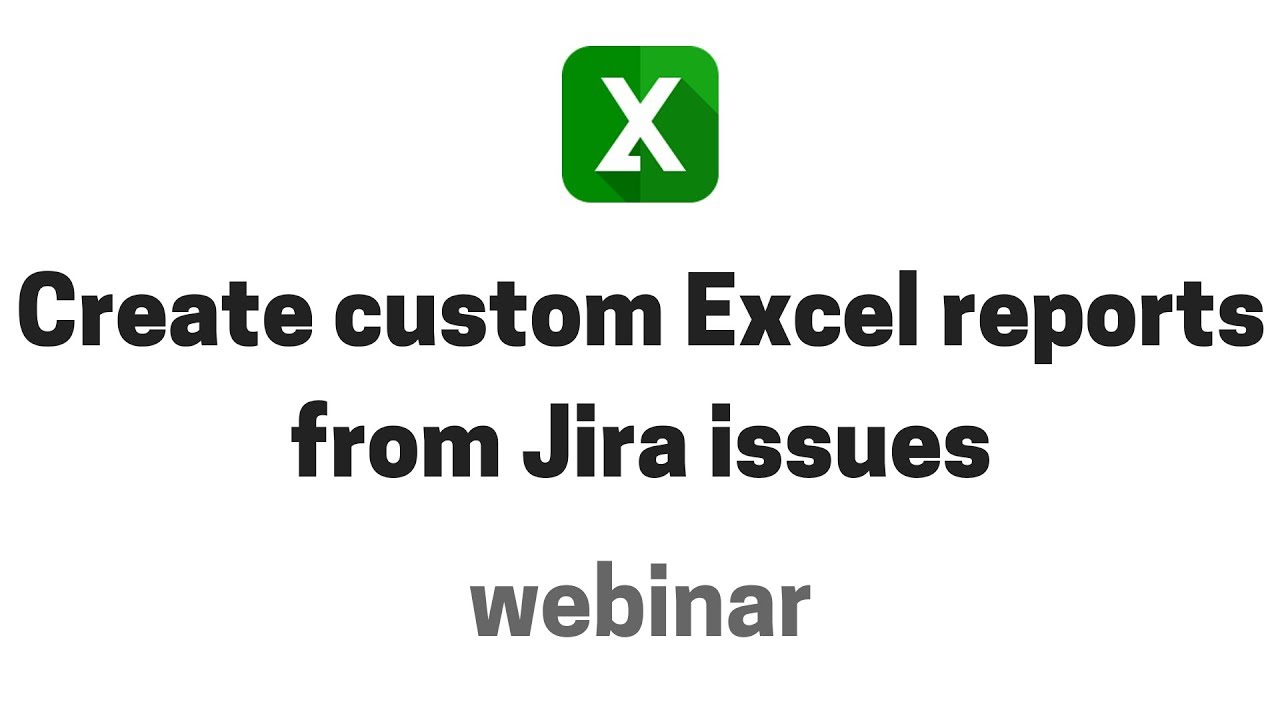 Slides
midori-webinar-create-custom-excel-reports-from-jira-in-no-time.pdf
Questions and Answers
Q: Is it possible to export more than 1000 issues?
A: Yes, it's possible. Jira has a default a limit on the number of issues that can be exported in one go to prevent overloading the server. You can change this setting in the Jira config file, by following our step-by-step guide.
Q: Is there an option to directly create a bar chart from a Jira sprint report?
A: Yes, it's possible, but not directly from the sprint report screen in Jira, as there is no Excel export menu. You will be able to create such a report by using a dedicated sprint report template from an Agile board or Issue Navigator view. See these example reports. If none of those fit your needs, or you want to know more, please open a ticket and our support team will direct you how you can create the sprint report you need.
Q: Is Better Excel Exporter available on Jira Cloud?
A: The Server and Data Center deployments are already available, and the cloud version is on our roadmap, too. Please submit your vote (click "thumbs-up") on the feature request and add a comment about your use case. The product team constantly monitors the feature requests to make decisions about future releases and updates.
Q: Data Center deployment option seems not available on the Marketplace. Why?
A: Yes. So, Atlassian just recently announced a new and enhanced certificate program for Data Center compatible apps, it's called Data Center Approved Apps Program. It means that now in order for apps to be available for Data Center customers, they have to go through Atlassian's approval process. They don't rely on the vendor's assessment anymore about Data Center compatibility. Even for apps that have a successful history with Data Center deployments, like Better Excel. As a result, the previously visible Data Center compatible flag disappeared and now all these apps are subject to Atlassian's scrutiny, which takes time.
To answer the question: you can use Better Excel Exporter with Data Center as it has been compatible with it for a long time. It's just not reflected as of this moment on the listing. Our support also covers Data Center related issues as well. In the meantime, the app is submitted to the approval process so the official Data Center compatibility will be reflected on the Marketplace listing soon.
Q: I tried to follow the pattern of expressions used in your built-in templates, but I didn't have success.
A: That's probably because people tend to make up expressions and they make mistakes. Please download and use the Reference Manual instead. That contains a lot of available expressions that you can use. If you are unsure about one, open a ticket and our support engineers will put you in the right direction.