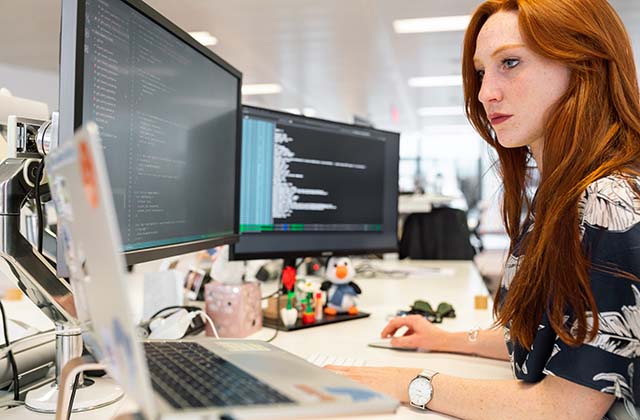 Improving developer experience with Better DevOps Automation for Jira
Control your DevOps workflow with no-code and low-code automation rules, all managed in Jira
Webinar summary
DevOps practices and tools are more popular than ever among software and IT teams. The Atlassian Marketplace is abundant with DevOps-related integrations for Bitbucket and Jira, but instead of installing 15 different apps for automating your DevOps workflow, we suggest a more elegant approach.
Join us on our introductory webinar for Better DevOps Automation for Jira, a new DevOps automation app for Jira Data Center (+ Server) users.
In this 30-minute, practical webinar Levente Szabo explains how you can trigger DevOps actions with code commits. By the end of the session, you will understand how you can connect your Version Control System (Git, Mercurial, SVN, or others!) with Jira and trigger a CI/CD tool, code inspection software, automated tests, Slack, email, or SMS notifications with commits. You will learn how Better DevOps Automation helps developers cut on manual tasks by automatically perform Jira issue operations, like transitioning issues, commenting, or logging work.
You will learn about Genius Commits, which carry customizable commands in commit messages that can trigger any automation action. You will be surprised to know how much manual effort and time can be saved by a single app inside Jira, instead of managing many DevOps integrations.
In this free webinar you'll learn:
How Better DevOps Automation for Jira works and how to get started
What are the new DevOps automation triggers you can use
What automation actions can be fired by the DevOps triggers
What are Genius Commands and how to use them when committing code changes
+ a demo of creating and using DevOps automation rules in Automation for Jira
Don't miss this if you are:
a DevOps team lead or team member
a Software developer or lead developer looking to learn about DevOps best practices
an IT manager in an enterprise environment, looking to introduce DevOps and other agile techniques to your organization
Hosted by
Levente Szabo
Customer Success Manager, Midori
Levi has been helping hundreds of users succeed with the Midori apps since 2016. Before Midori, Levi led the customer team at WIND Mobile Canada and IBM and was a guest lecturer at Central European University. When not in the office, he plays with his son or catches up with the latest stock market news.
Date and time
PST (US Pacific Coast)
EST (US East Coast)
GMT
BST (UK)
CET (Europe)
AEDT (Australia Eastern Coast)
Duration: min
Cost
Free
Registration
No need to fill long forms. You can stay anonymous and come without registration. Just show up at the YouTube event 5-10 minutes before starting.
Or, register at Eventbrite to:
add the webinar to your calendar
get a reminder before start
get updates (if there are)
get the recorded webinar later
Can't make it? Register anyway and we'll send you the webinar slides and recording later.
You can safely ignore when Eventbrite talks about tickets and orders. It is a free event with no tickets.
Recorded webinars