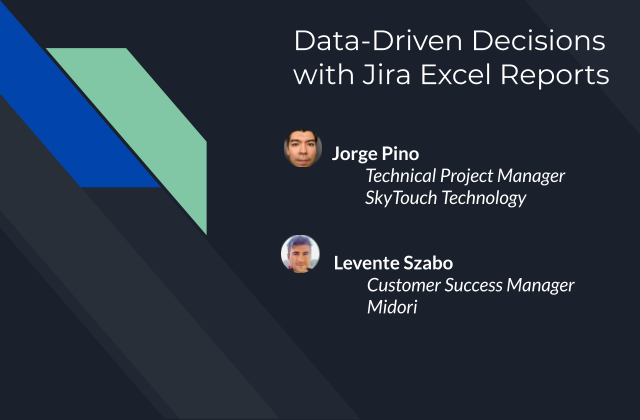 Data-driven decisions with Jira Excel reports
How data replaced gut feeling at SkyTouch Technology using Better Excel Exporter
Webinar summary
Since they use a dedicated Excel exporting app for Jira, data replaced gut feeling at SkyTouch Technology.
SkyTouch Technology, a hotel management software company has been using Better Excel Exporter for Jira to export custom Excel reports from Jira data. They use these reports to communicate project progress and potential bottlenecks for the team, and support managers, so they can make data-driven decisions.
We invited Jorge Pino, a technical project manager at SkyTouch to share his experience on how they are using Jira Excel reports to identify upcoming roadblocks and analyze team performance metrics.
In Jorge's demo, you will also see how they get meaningful insights on their Jira sprint performance, run estimated vs. actual time spent reports and give feedback to the developer team as well as business leaders.
See what will be packed in this short, hands-on, 30-minute session!
In this free webinar you'll learn:
What project progress metrics does SkyTouch Technology track and report on with Jira Excel reports
How to create an estimated vs. actual spent time Jira report in Excel
How to understand what tasks does the team spend their time on with Jira worklog reports
How to view the trend of software defects and resolution rates in Jira
What does a project management dashboard look like in Excel?
Don't miss this if you are:
Business, software or service team looking for customizable Excel report functionality
Jira administrator with sharing, exporting, data integration use cases
Jira user with Excel exporting or reporting needs
Hosted by
Levente Szabo
Customer Success Manager, Midori
Levi has been helping hundreds of users succeed with the Midori apps since 2016. Before Midori, Levi led the customer team at WIND Mobile Canada and IBM and was a guest lecturer at Central European University. When not in the office, he plays with his son or catches up with the latest stock market news.
Date and time
PST (US Pacific Coast)
EST (US East Coast)
GMT
BST (UK)
CET (Europe)
AEDT (Australia Eastern Coast)
Duration: min
Cost
Free
Registration
No need to fill long forms. You can stay anonymous and come without registration. Just show up at the YouTube event 5-10 minutes before starting.
Or, register at Eventbrite to:
add the webinar to your calendar
get a reminder before start
get updates (if there are)
get the recorded webinar later
Can't make it? Register anyway and we'll send you the webinar slides and recording later.
You can safely ignore when Eventbrite talks about tickets and orders. It is a free event with no tickets.
Recorded webinars