A large Swiss financial institution (which asked not to be named), set out to improve internal processes including having Jira export to Excel automatically.
They employ more than 60,000 people across locations in every important financial center in the world. Improving internal project management processes is a high-priority and ongoing task for a successful business operation.
The context
"We defined two main requirements, that were needed to happen as prerequisites for any improvement" - says Tobias, a Jira technical expert at the bank.
How to export Jira issues to Excel? Especially issue data that are otherwise not easily accessible or downloadable (issue attachment links, issue links, users, change history, issue comments, to name a few). We aimed to create Excel reports from Jira, so XLSX, the standard spreadsheet file format was in our focus.
How to automate our Jira reporting? Replacing the previously used multi-step process which was complicated, time-consuming and relied on multiple tools. (It was previous done by downloading all issue data into a Microsoft Access database and then running Visual Basic scripts to produce PowerPoint reports.)
Exporting from Jira to Excel
They turned to the Atlassian Marketplace, hoping to find a Jira app for their requirements.
"We tried different apps, like ScriptRunner, but it did not solve our issues. Partly, because of the high initial configuration efforts and also due to the fact that custom scripts are discouraged in our environment."
"We chose Midori's Better Excel Exporter app for our reports because of its high customizability. We were able to create our Excel reports exactly the way we wanted. Also, the app already comes with default Jira to Excel export templates for comments, history, Jira users and many more, so we didn't have to implement those ourselves."
Automating Jira to Excel reports
A highly efficient reporting mechanism always includes some automation.
The team found Better Excel Exporter a good fit to support their custom processes, and they also found Better Excel Automation. It's a free app also developed by Midori, that allows us to create Jira Excel exports automatically. It implements automation on top of Better Excel Exporter actions possible, like sending a Jira Excel status report email automatically.
"One main use case we had was to automate a specific report regarding our RAID Management (Risks, Assumptions, Issues, Dependencies). This report provides an overview and descriptive statistics of the important Risks and Issues based on the data found in Jira. It's very much like a custom status report with red, amber, green flags."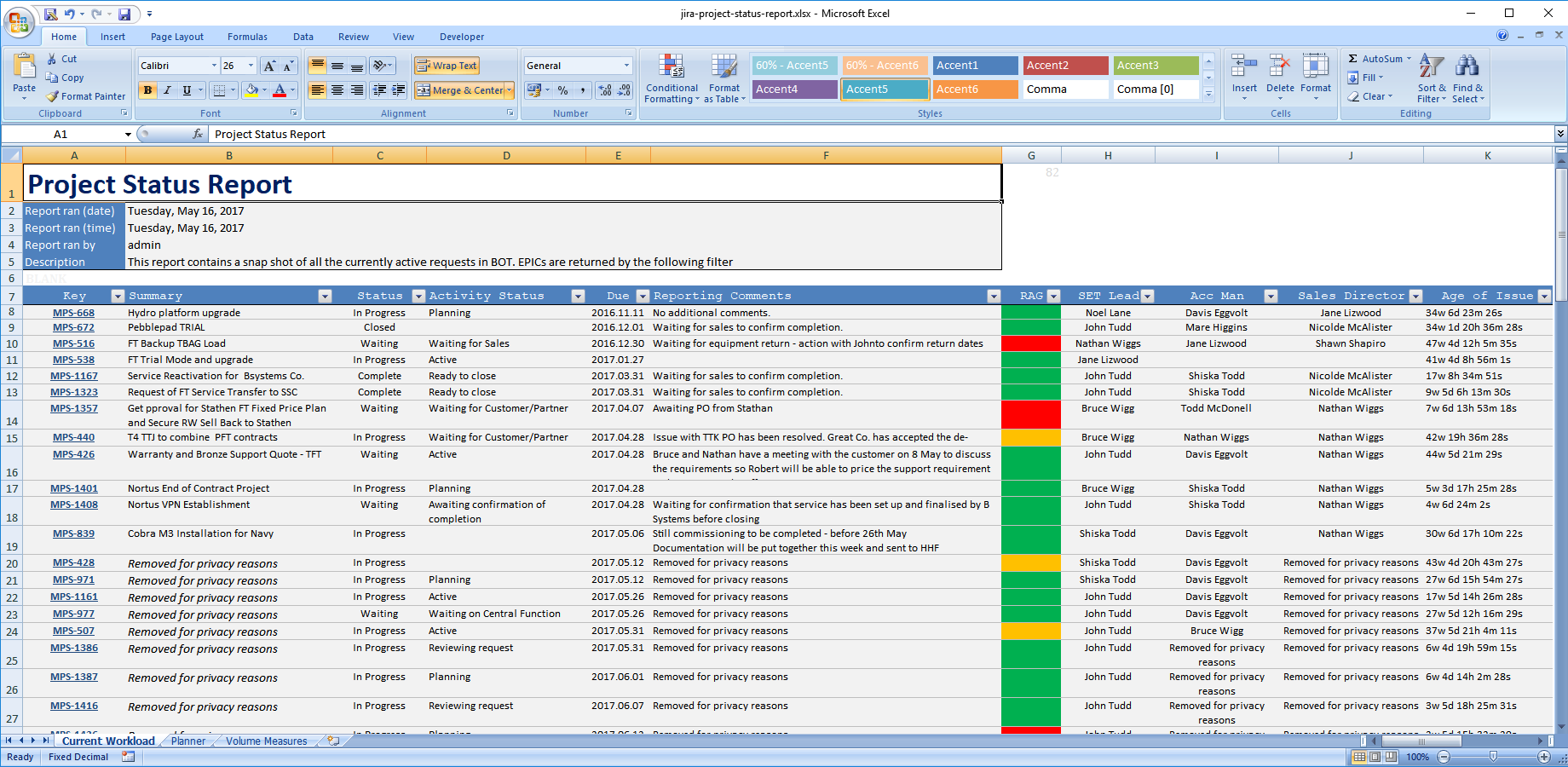 A sample of a custom project status report exported from Jira to Excel
This report is periodically created with Better Excel Exporter and automatically sent to system engineers with the corresponding Better Excel Automation app. The report is available to the users from the Export drop-down menu on the Jira screen, so they can now also get the report on-demand, in addition to the scheduled reports.
"We also need high-quality data migrations from one Jira system to another. A great benefit of having Better Excel Exporter is that it allows us to easily extract the relevant information we need for our data migrations. It saves us valuable resources on these repetitive and error-prone tasks."
Creating reports as simple or as complex as you want
In case you are just starting with Better Excel Exporter, the built-in templates will be enough for you initially. It means you can export your Jira issues to Excel right after installing the app, no configuration needed.
For more advanced Excel reports and charts, like the ones Tobias and his team use, it's useful to study the resources Midori provides, like the documentation, recipes or the Expression Reference Manual for template development.
"To take full advantage of the app's capabilities it's important to have the skills and the knowledge on how to create and customize one's reports" - explains Tobias. "The possibilities are almost endless, but to productively leverage this, a clear understanding of the Jira data model and programming best practices is paramount. Good thing is that if you are unsure how to do something, the Midori Support team is pretty quick to show you the way forward."
Conclusion
Tobias and his team found Better Excel Exporter a fitting solution for the Jira reporting needs at their financial organization. You can do just the same for your team and decide how simple or complex you want your Jira reports to be.