BlueSun is a Spanish household care products manufacturing company, targeting their brands mainly for the markets of Europe, the Middle East, and Africa. The consumer products under the BlueSun brand were earlier owned by Procter & Gamble.
Jira Service Management was introduced to serve internal users, specifically the employees working at the manufacturing plants. While Jira Service Management proved to be the perfect tool to take their support services to the next level, it lacked granular data on the agents' workload. It's reporting was also not advanced enough and lacked the ability to easily export Jira Service Management data to Excel.
Better Jira Service Management time tracking reports
Juan Jose Castro is an IT Infrastructure Manager at BlueSun. He has been with the predecessor of BlueSun for 26 years, so he has 29 years in total at the company.
Juan, what project are you currently working on?
I'm involved in several projects related to my role: data communications between different systems, support services, and networking.
I'm always trying to improve our end-users' IT experience. To this end, we deployed Jira Service Management in BlueSun after looking into several options.
Jira Service Management turned out to be a great investment, as it's an awesome tool to serve our internal end-users' various IT needs. However, it was a bit weak on the data collection and reporting side.
What was the business problem that made you look for a better reporting solution for Jira Service Management?
We needed detailed Jira Service Management insights for visualizing and examining our support service data, especially our agents' workload.
So we searched the Atlassian Marketplace for an enterprise-grade app for analyzing Jira Service Management data in Excel. We found Better Excel Exporter that was perfect to help us keep our IT KPI's under control.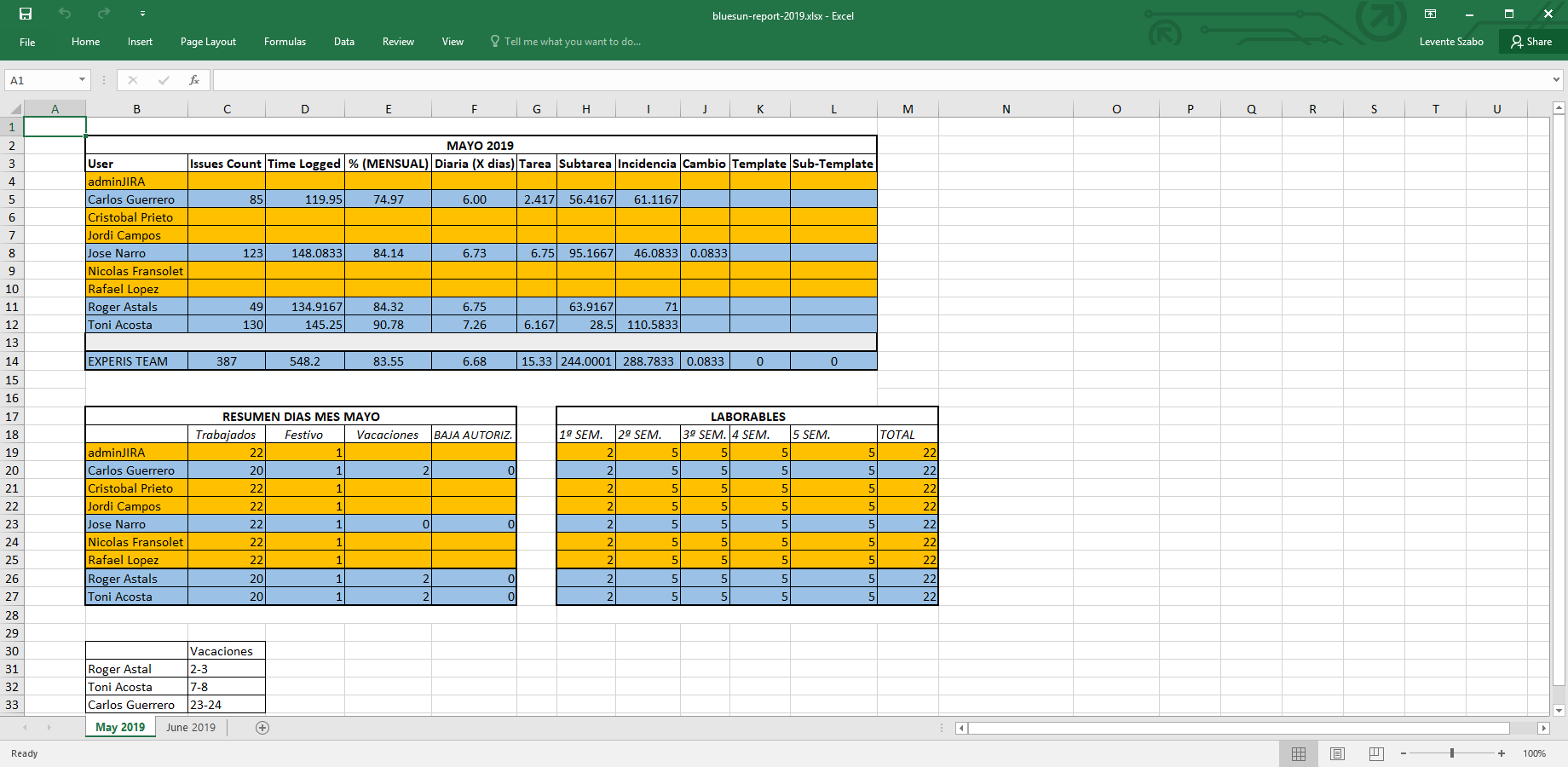 Example Jira Service Management agent workload report at BlueSun
Can you highlight a Jira Service Management Excel report use case?
This one is a typical example: we're collecting our support agents' detailed worklogs, and export them from Jira Service Management to Excel with Better Excel Exporter. It's a detailed data export with ticket summaries, agent names, worklog details, and dates, but the app exports everything into a nicely formatted, native Excel spreadsheet. We can customize and explore the information there as we want, using Excel's built-in features.
Our goal is to have an understanding of how monthly workload is distributed among our agents, and verify that efforts are balanced evenly among them. We analyze the collected data and if we need to, we make decisions about redistributing tasks. We also use it for things like discovering the top 10 recurring problems.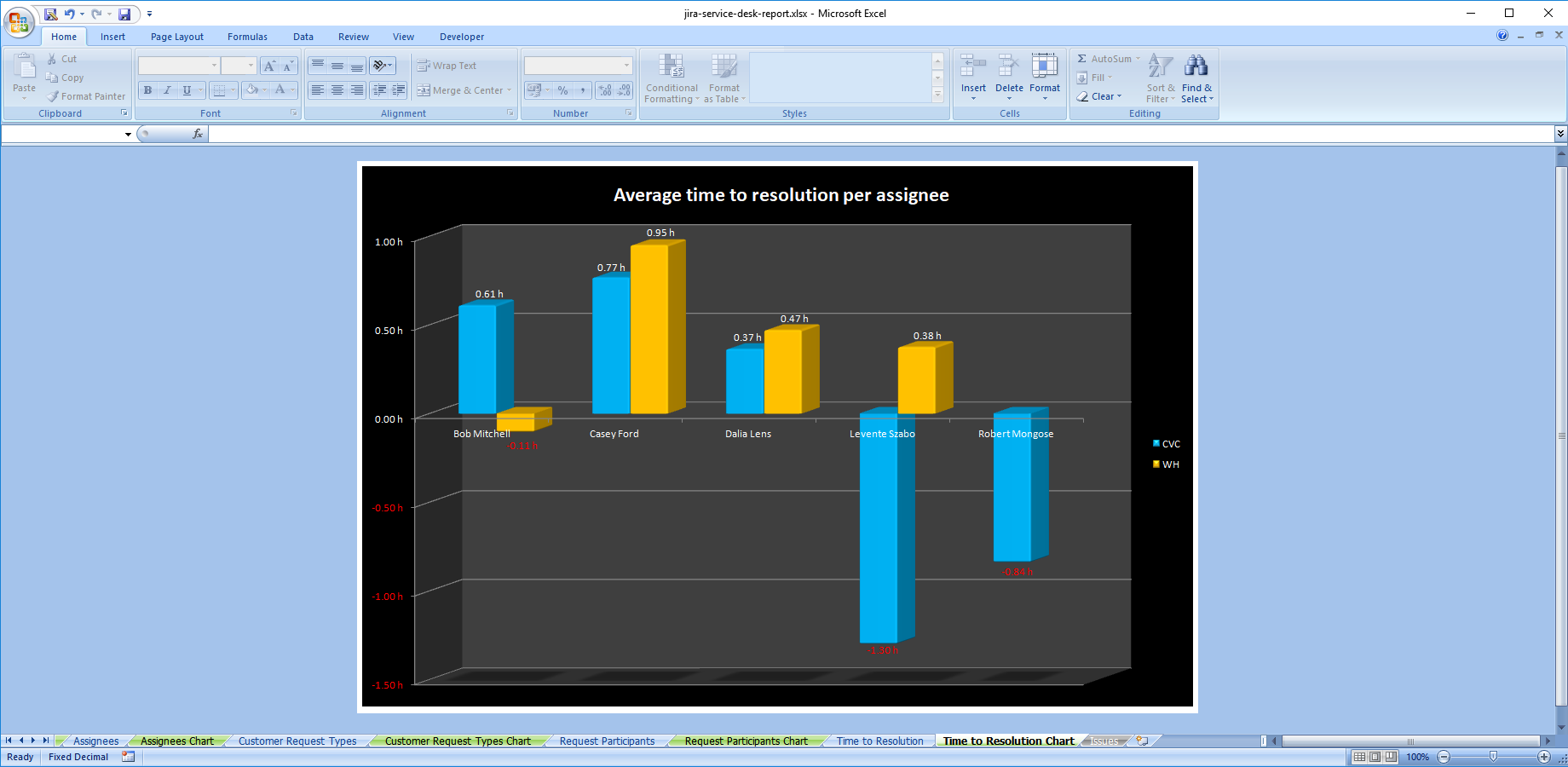 Jira Service Management pivot chart created with Better Excel Exporter (illustration)
How does better workload reports make your team more efficient?
Earlier, it would have been more difficult to achieve this. We would have used a combination of tools or workarounds, making it more expensive, also. Better Excel Exporter simply makes it easier to collect data from Jira Service Management tickets, allowing us to focus on analyzing our results.
What do you suggest to anyone looking to improve the Jira Service Management reporting?
I would say that it's very important to know what data you need and what's your goal with it. Keep your goal in mind when sharing your exported reports with your team and articulate what you want to achieve. Our research could be performed by one of the templates we received with the app.
But if your requirements are not covered by the built-in Excel templates, then "translate" your report into a well-designed Better Excel Exporter template including all the data you need ,and voila!
You will have a Jira Service Management report just like your managers wanted.