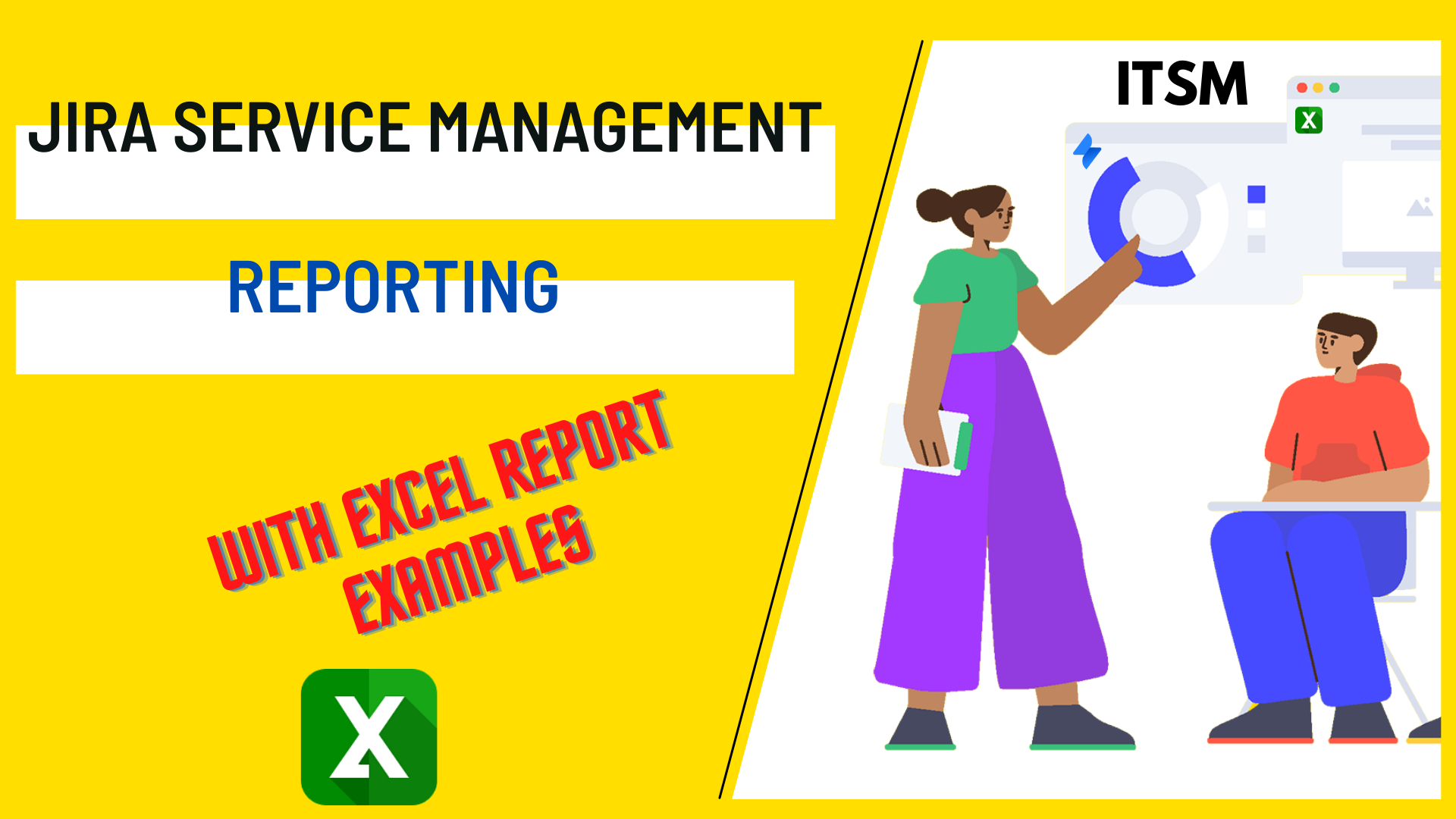 What is Jira Service Management reporting?
Jira Service Management (it was previously called Jira Service Desk) is Atlassian's fast-growing and market-leading ITSM offering. Jira Service Management reporting helps to understand service trends, usage patterns, and measure service team effectiveness.
Both IT and non-IT service teams use Jira Service Management in internal and external service projects as well as in change management projects.
Jira Service Management custom reports can be internal or customer facing. Internal reports are for management meetings, supporting decision-making, and performance improvement. These reports allow team members and management to get a real-time view of how service workflows are operating.
It's a growing trend that service teams are setting up customer-facing Jira Service Management reports for better transparency and accountability. An accessible report promotes open communication on project status and agent workload. It helps to avoid unnecessary calls or concerns.
There are 4 basic reporting options in Jira Service Management:
Default reports
Custom reports
Dashboards
Exporting to common formats (like Excel or PDF)
✋ This article is about Excel reports, but you can create professional Jira Service Management reports in PDF format as well. Learn more about exporting tickets and other Jira issue data to PDF documents.
Jira Service Management default reports
The built-in, default reports can't be edited but provide visibility into the basic service project factors. Default Jira Service Management reports are the Workload, Satisfaction, Request deflected and Requests resolved reports. You can access these from the "Reports" menu in Jira Service Management.
Jira Service Management custom reports
Custom Jira Service Management reports give more flexibility in measuring the metrics that your team cares about. With custom reports, you can fit reporting to specific team goals and targets.
You can edit an existing custom report or create your own custom report. Custom reports include Created vs resolved, Time to resolution, SLA met vs. breached and more.
ITSM reporting with Jira dashboards
The Jira dashboard is not completely a separate reporting option. It's more of a best practice of presenting your existing reports in Jira Service Management. You can spice your ITSM dashboard up with reporting apps to give better visuals or a new angle to your reports.
With the help of Marketplace Apps, an ITSM dashboard would function as a one-stop-shop for understanding the overall health of service processes. Visually compelling gadgets and charts help uncover anomalies before they cause disruption.
Jira Service Management Excel reports
Excel reporting plays a huge role among Jira Service Management custom reports. Reports that need to be shared with management or partners are often required to be in Excel format for general usability. Beyond the fact that Excel is often the preferred format for reports, custom Excel reports can offer more than built-in Jira Service Management reports.
Create Jira Service Management Excel reports
IT Service Management is a critical business function and subject to constant optimization. Jira Service Management offers several reports as measurability is key to understanding what to optimize or change in your processes.
Despite the effort to provide a wide range of reports, there might be report requirements that are missing. Custom Jira Service Management Excel reports can complete the picture and deliver the insights you are looking for.
Below is comprehensive collection of the Jira Service Management Excel report types that the Better Excel Exporter for Jira app provides.
Service Request Status Report
The Jira Service Request Status Report provides a snapshot of the status of Jira Service Management tickets grouped by request types. This is a pivot report, allowing you to drill down to the data level you need. You can present the findings using pivot charts and from angles that best suit your needs.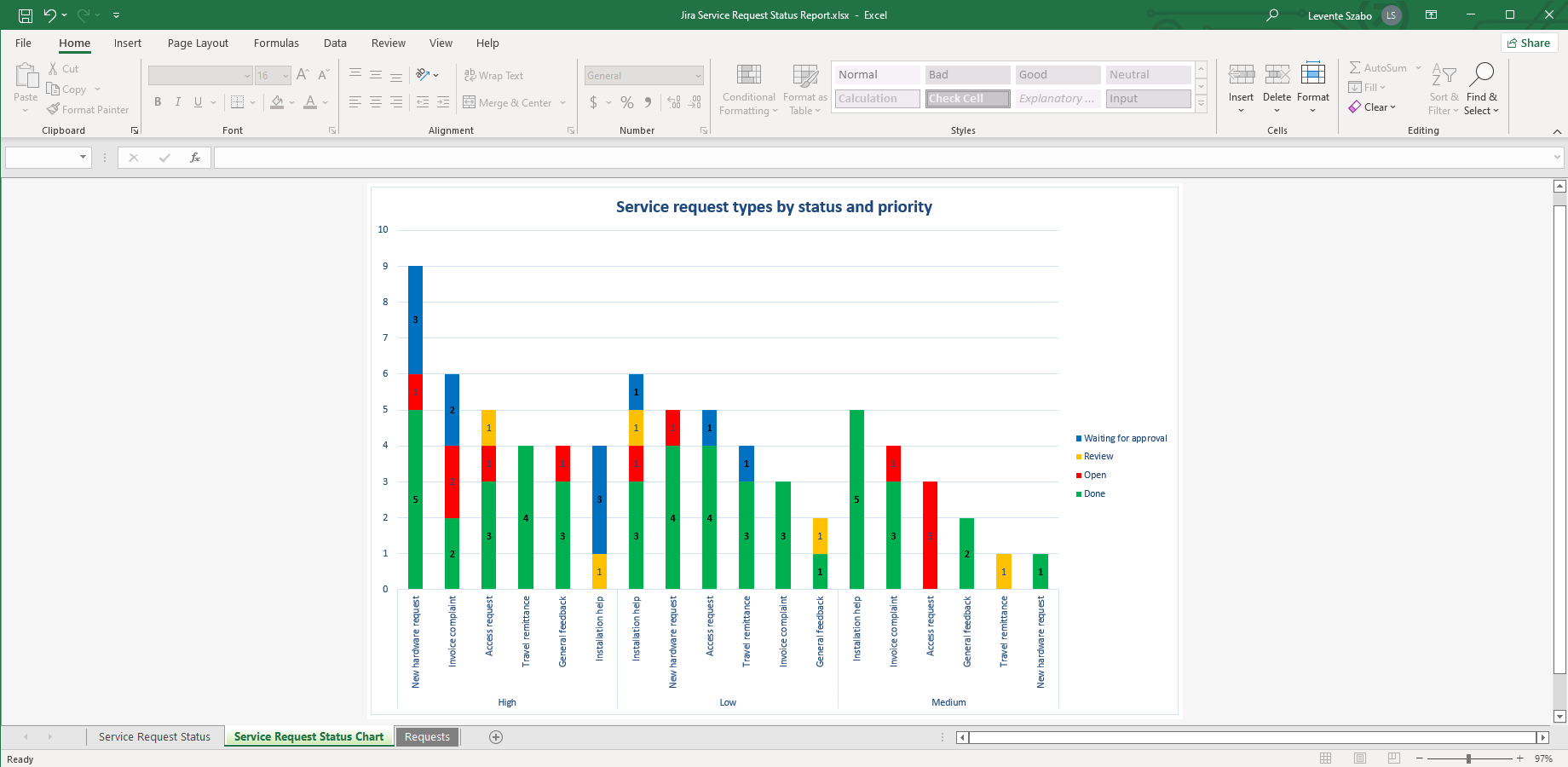 Sample export of a Jira Service Management Request Status report
Service Request SLA Report
Service Level Agreement is a key metric in service projects, so Jira Service Management has a custom report for this. The Jira Service Request SLA Report offered by Better Excel Exporter for Jira is a similar report in Excel pivot report format. It contains the ratio of SLAs breached, and met for a time period or set of service requests.
Service Request Approver Report
This report is also missing from the built-in Jira Service Management reports. The dedicated Jira Service Request Approver Report is an Excel pivot report that helps to understand the amount of service requests waiting for approvers and approver groups.
Change Status Report
A change request in Jira Service Management is a special type of request and is often a battleground between business and IT. Get a view of the status of each change with this custom Excel report. While Jira Service Management has a Change Type Report, Better Excel Exporter delivers more. Continue with this dedicated article on the Change Status Report for Jira Service Management projects.
Customer Satisfaction (CSAT) Report
The Customer Satisfaction Report provides measurable feedback on the customers' perception of the service received. Jira Service Management can be set up to prompt the customer for star ratings and written feedback after their ticket is closed.
The Customer Satisfaction (CSAT) Excel Report for Jira Service Management will create a pivot report from the average satisfaction per organization and reporter.
Incident Categorization Report
Jira Service Management comes with a custom report for incidents, that only compares the priorities of incidents. Better Excel Exporter's Incident Categorization Report goes much deeper than that. This Excel report is built to show the number of incidents per ITIL Product Categories and ITIL Operational Categories.
The report can take into account the incident priority, assignee, approvers, impact, and much more to give you a fuller picture.
Get all ITSM reports at once
Get all the above Jira Service Management Excel report templates when you start a free trial of Better Excel Exporter for Jira!