The "Bug" issue type in Jira is the primary format to track bugs and defects. To get an overview of bugs you can generate a bug summary report.
One way you can create a bug report in Jira is by using built-in report gadgets or by exporting a Jira bug report to Excel.
What is a Jira bug report?
A Jira bug report summarizes the reported bugs or defects by certain metrics. The report is sometimes called a defects report or bug report, depending on product, industry, and team preference. A typical report lists all bugs (or defects, problems) for a specific period.
You can create a Jira defect report with built-in dashboard gadgets, like the Two Dimensional Filter Statistics gadget. You can set up your Jira bug report in a few simple steps:
Create a saved filter for the bugs you want to report on.
Add the Two Dimensional Filter Statistics gadget to your dashboard.
Set one dimension for Status.
Set the other dimension for Priority.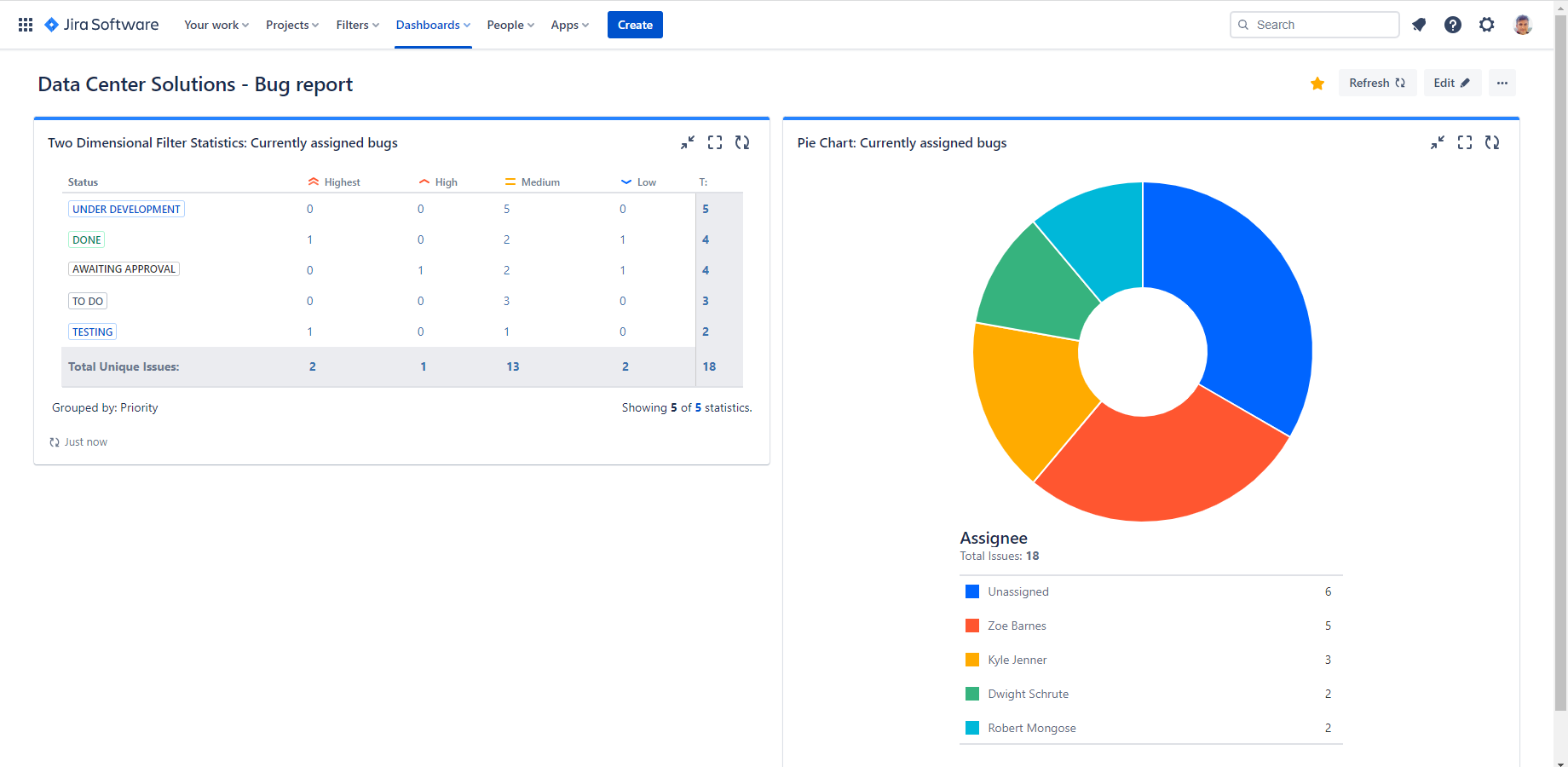 Report on bugs with a Jira dashboard gadget
This creates a sample bug report in Jira as a dashboard gadget. You can change the dimensions and choose other metrics to highlight in your bug report.
Components of a bug report
You can download a Jira bug report to Excel with all key components of your defects. Better Excel Exporter for Jira provides the export options to generate a Jira defects report in a native Excel file. Just collect the fields that represent the main components of a bug report in Jira.
The following details are considered basic components of a Jira bug report:
Jira issue key for the bug as a hyperlink
Bug summary
Bug description including steps to reproduce, expected and actual results
Priority
Date of discovery
Current status
Fix version
When reporting on bugs, you can include further relevant custom fields, where applicable, like:
Operating system
Device type
Browser
Version and build number
Link to the problematic page if relevant
Custom fields for personalized classification of the bug
Generate a bug report in Jira
Generating a bug report in Jira with Better Excel Exporter is as simple as exporting any other type of issues.
A 3-step guide to generating and downloading a bugs (defects) report from Jira:
Collect the bugs in Issue Navigator that you want to report on.
Choose the large Excel icon to open the Excel export options.
Select "Excel (Current fields)".
The Jira bug report is downloaded automatically.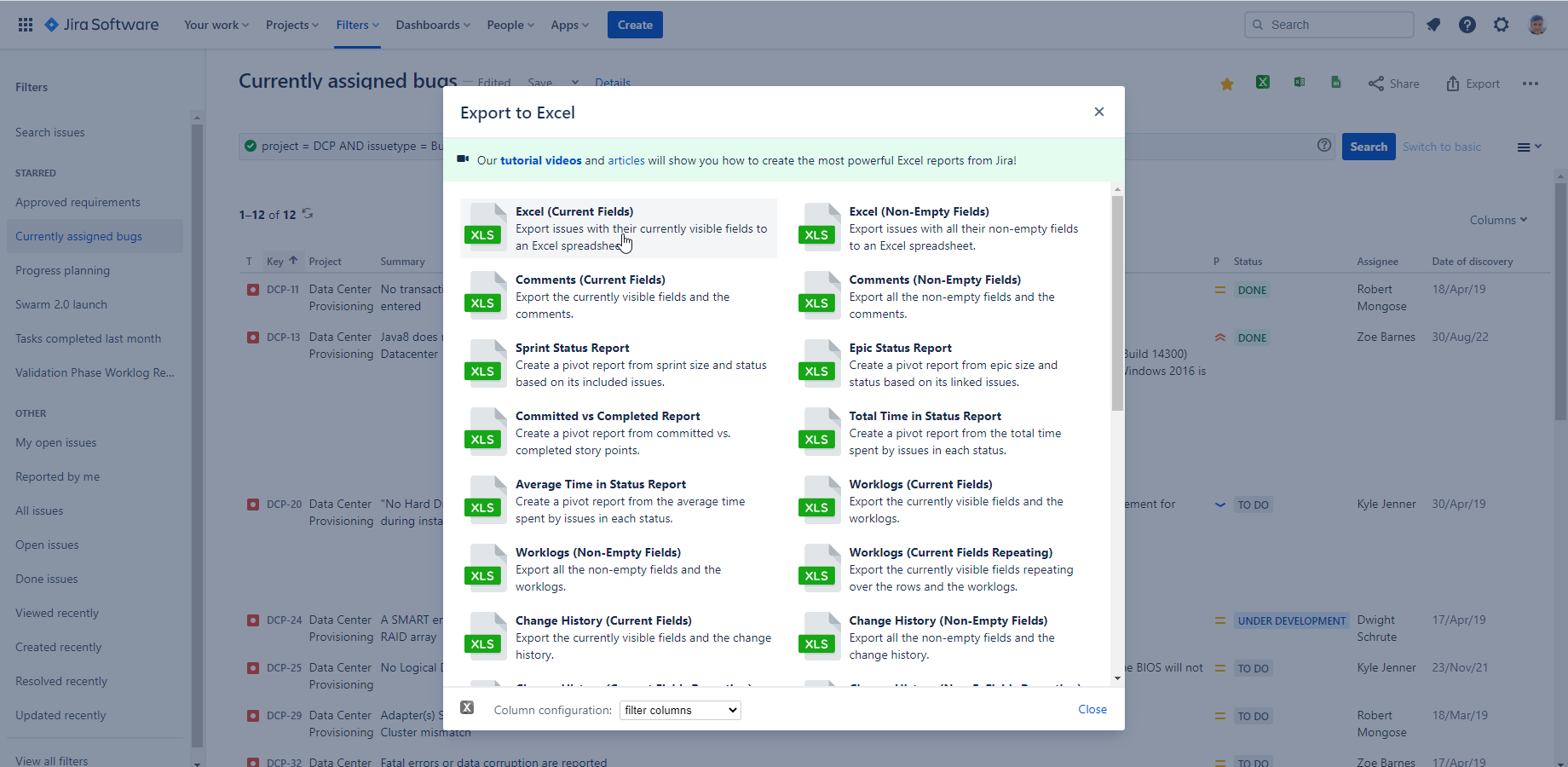 Exporting the collected bugs to Excel with Better Excel Exporter
Get a Jira bug report by default
Better Excel Exporter comes with pre-built templates for exporting Jira bug reports or any other Jira issues to native Excel.
If you are using a test management app like Zephyr Squad or Xray, you can also create a dedicated bug report or more complex test reports. Better Excel Exporter is integrated with those and prepared to handle Zephyr Squad tests (on both cloud and on-prem) and Xray tests (on-prem only).
Start a free trial and get a Jira bug report together with all other templates at once!