Jira issues can contain attachments like images, documents, presentations, spreadsheets, and other files. To export Jira issues with attachments you need to define the format you want to export to as not all formats make sense.
Exporting Jira issues with attachments to Excel for example doesn't work as Excel doesn't handle binary files well. You can paste an image into an Excel spreadsheet, but it's not the ideal platform for it.
You can use the PDF file format to export Jira issue attachments. PDF can embed and handle files natively which makes it a perfect format for exporting Jira issue attachments.
How to export Jira issues with attachments
Exporting issue attachments from Jira Cloud is not a native feature. Better PDF Exporter for Jira allows you to include your Jira issue file attachments into a PDF document.
Steps to export Jira issues with attachments:
Go to a single issue that has attachments.
Open the "PDF export options" menu.
Choose the "PDF (Embedded Attachments)" export option.
You're done! The exported PDF will contain your issue attachments!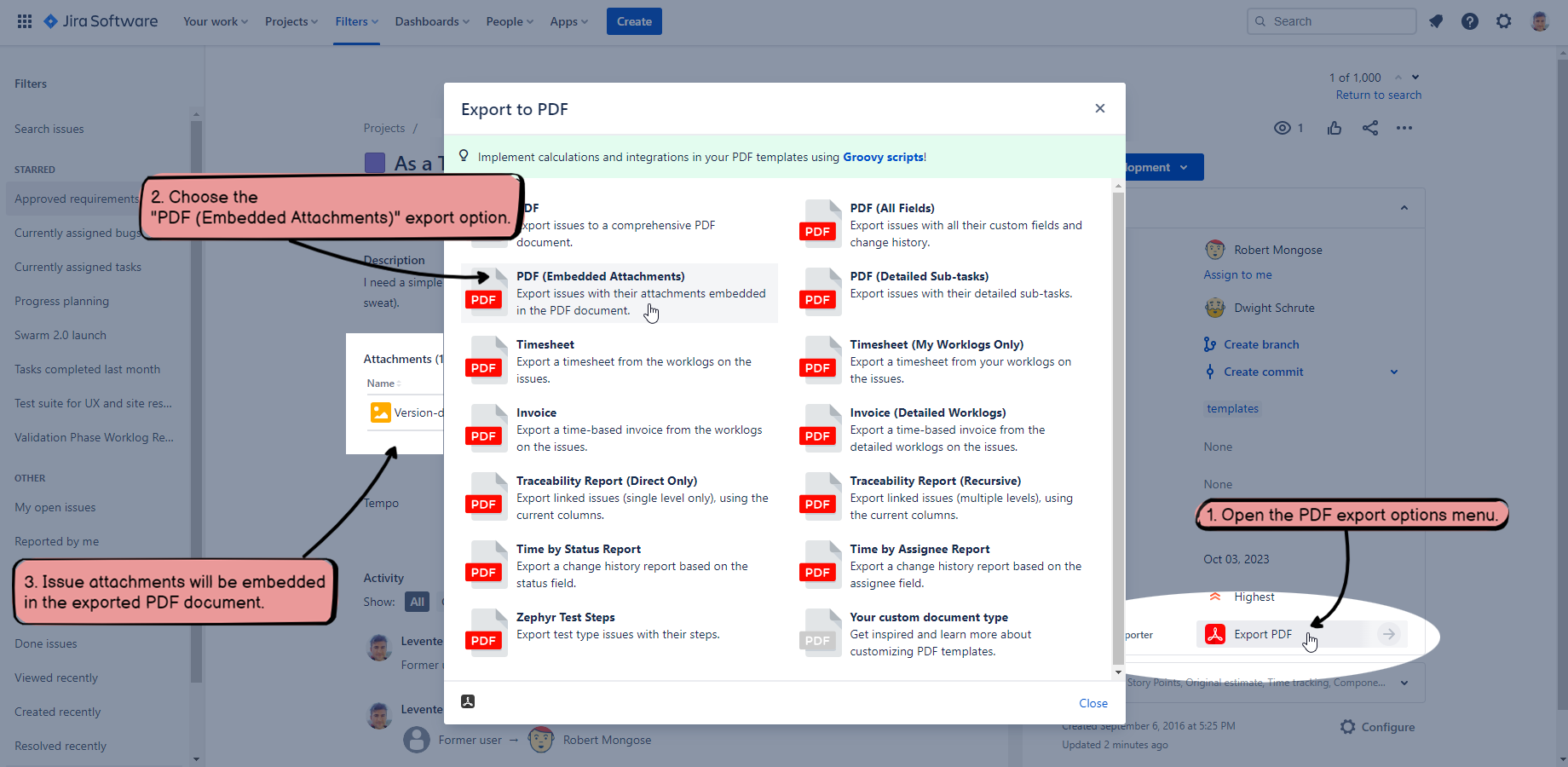 Select the Jira issue export option with attachments
As a security measure, you can also define the maximum file size you allow embedding in PDF documents. You can avoid creating Jira issue PDF exports with too large file attachments.
Jira issue exports with attachments case study
Andrew is using Jira Cloud to document projects in the energy industry. He uses customized Jira issues to survey his customers about their exact requirements and to record the details of the upcoming project.
When everything is in one place, Andrew usually sends over all the relevant information collected to the customer in PDF. The final PDF document that the customer receives has all images, attachments, comments, and more, in a widely compatible and easy-to-read format.
It hasn't always been this easy to share Jira data with external partners, but Andrew found a solution that works. By the end of this short story, you will also learn how to export Jira issues to PDF with attachments embedded.
The customer: Landis+Gyr
Landis+Gyr designs and manufactures energy management products, and smart meters for utilities. They have locations in 31 countries around the world, out of which 18 are manufacturing plants.
Andrew is a project engineer and has been with Landis+Gyr for 3 years in Hong Kong. They store sensitive customer information in Jira Cloud, and sharing Jira data without giving access to external parties was a real challenge earlier.
The challenge: share Jira data with external partners
"I tried to share tickets and survey results with my client, without having to grant them access to our internal Jira. I had no idea what's the best way to do it, so I turned to the Atlassian Marketplace", remembers Andrew.
The Atlassian Marketplace helped Andrew get inspired about how to use exporting to share Jira issues without granting access permissions. He searched for the top-rated Jira Cloud apps on the Atlassian Marketplace and found Better PDF Exporter.
The solution: export from Jira to PDF with attachments
"Better PDF Exporter has good reviews on the Atlassian Marketplace. Besides, I found that sending a PDF document to the customer with photos and attachments embedded is an excellent idea", Andrew recalls.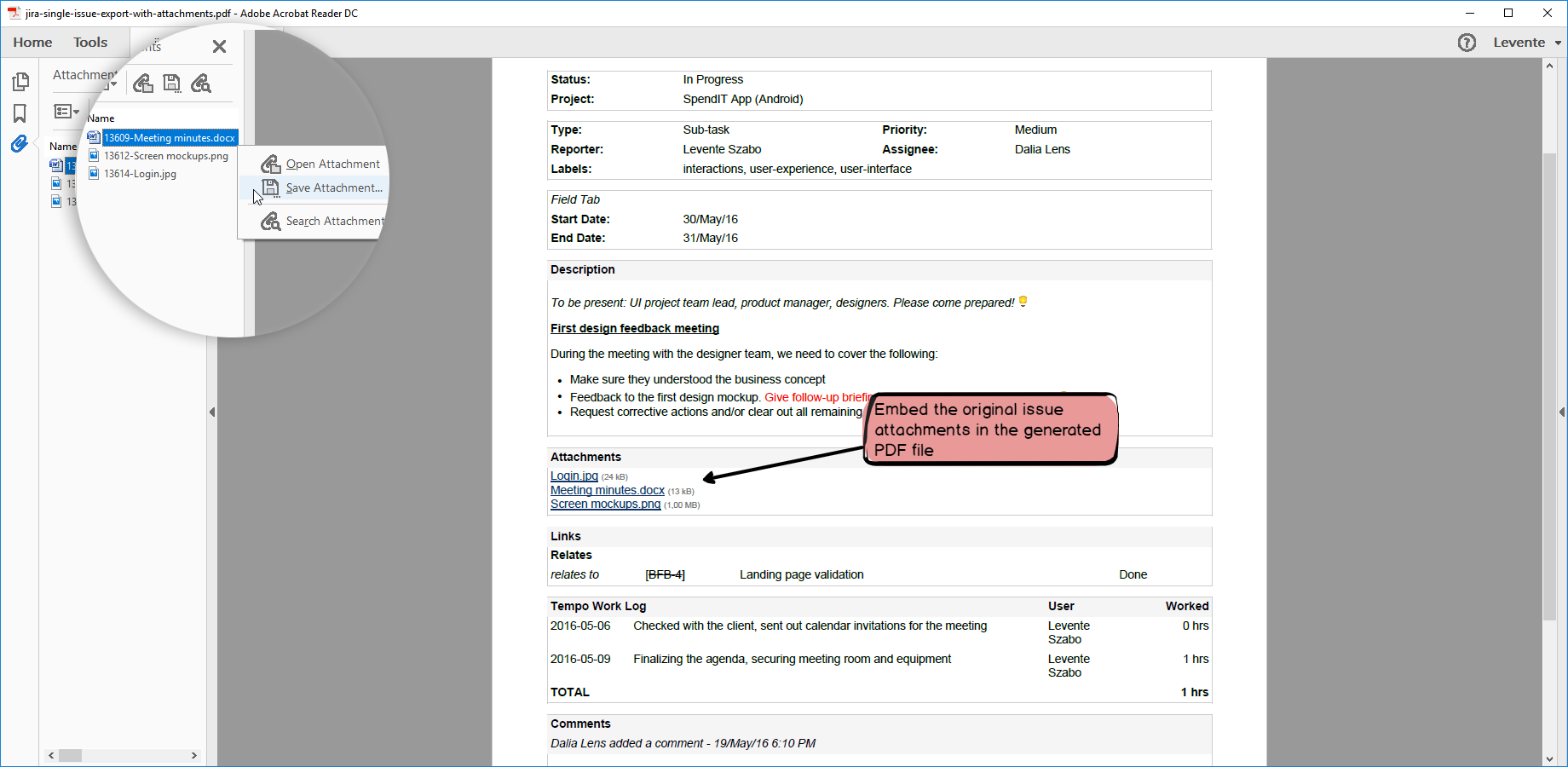 Jira issue attachment files are embedded in the exported PDF document
Details like the file names and links to the embedded attachments will show up in the exported PDF. By clicking the links, the recipients can open and save the attachments.
This is entirely offline, and the recipients don't need to have access to your Jira instance. Learn more about this feature in the documentation or reach out to our support team!
Export Jira issues with attachments to PDF, so you can easily share Jira issues with external partners.