Agile teams who organize work into epics need to track epic progress, and want reporting at epic level in Jira. The built-in Jira Epic Report or Epic Progress Report is not customizable and often not detailed enough. Teams need to know how to export epic report in Jira or what is the best epic progress report in Jira.
What is a Jira epic report?
A Jira epic report is an umbrella term and can mean multiple documents.
Sometimes a Jira epic summary is the right document to communicate epic-related information to management or report after an epic has ended.
A Jira epic status report is a document that takes an ongoing epic into account. A Jira epic progress report is often used interchangeably with status report.
You can get a Jira epic report in Jira Software or you can export a Jira epic report to Excel for further analysis. Exporting a Jira epic report is best if you want greater flexibility of what and how you want to report.
How to track epic progress in Jira?
An epic type issue displays all issues that belong to it and a percentage of the number of issues completed. This metric is accessible directly on the issue screen.
This is one way to view epic progress in Jira, but it's inaccurate. Tracking the number of stories completed in an epic doesn't tell much about the actual work completed or estimated for the epic.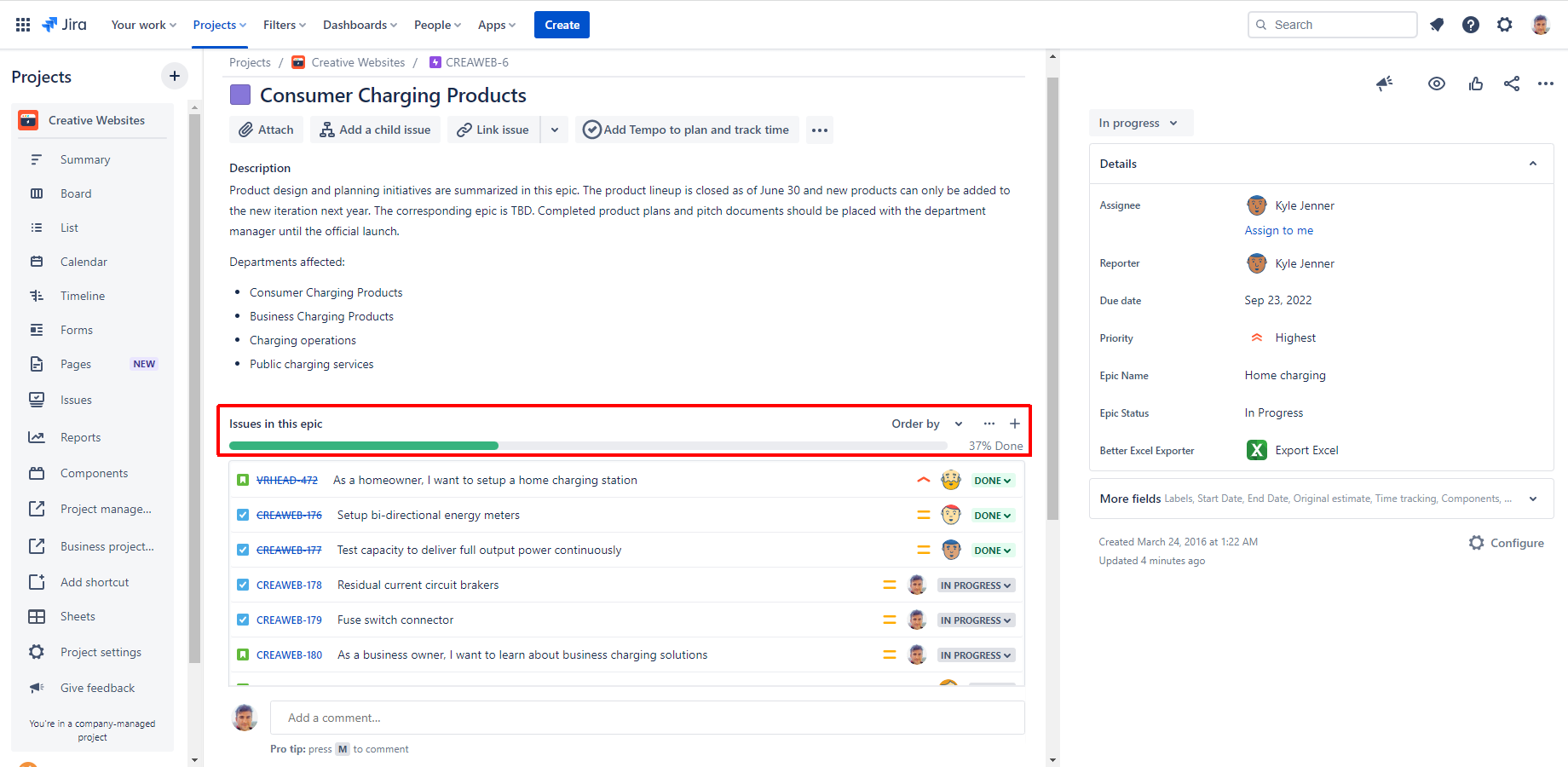 A Jira epic type issue displays a simple progress indicator
For planning and reporting it's better to look at metrics like story points. It helps to understand the impact of issues with different effort requirements.
One of the agile reports Atlassian built into Jira Software is Epic Report. If you don't need to further analyze your data, and reporting on one epic at a time is enough, it's a useful feature.
It contains a Jira epic burndown chart, but you can report only on one epic. It doesn't allow adding custom content or create a report across multiple epics. You can use the epic report inside Jira Software, but a more advanced tool to create a Jira epic completion report for all epics.
To see the epic report in Jira:
Navigate to a Jira project.
Click on Reports on the left-side menu.
Choose the Epic report from the agile reports.
Select an epic or epic link.
Try out other reports, like a Velocity report to track the progress of an epic in Jira.
How to export epic report in Jira?
Follow these steps to export epic report from Jira:
Collect your issues in the Issue Navigator (issues in one or more epics).
Select the larger Excel icon from the top.
Choose the Epic Status report.
Click to download the report if not downloaded automatically.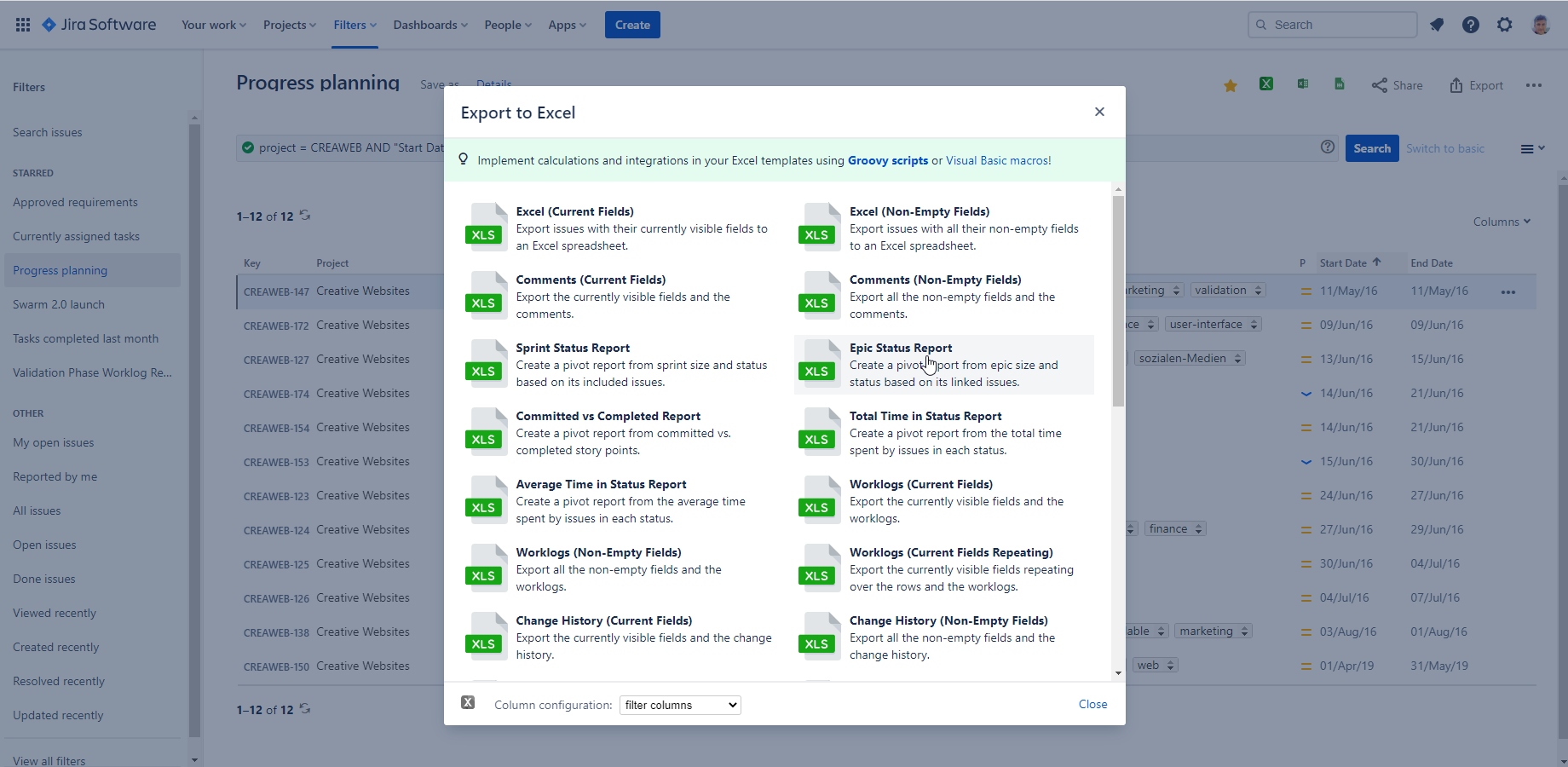 Epic Report export option provided by Better Excel Exporter for Jira Cloud
This generates a Jira epic status report for all epics. The exported Excel report contains the epics by status on a pivot chart and pivot table. The default report includes story points, but you can customize the report template to also include the percentage of completed tasks for each epic.
You can further enhance this Jira epic status report to function like a Jira epic summary. A Jira epic summary report shows how much effort (days, total hours worked, stories or story points) it took to complete an epic.
You can cross-reference other Jira issue field values with epics to get more customized Jira epic status reports. The Jira Epic Status Report in Better Excel Exporter exports details like components, versions or sprint information that you case use to build reports for.
For example, you can report on Jira epics that are in progress, have a certain component, and assigned to a specific team member. More on Jira epic reports by users below.
Jira epic report with Kanban board
The Jira built-in epic report is not available for Kanban boards, only for Scrum boards. This is because an epic report is not suited for how Kanban organizes work.
An epic type issue is a way to group work that will span over multiple weeks or months. It includes stories that the team works through until it's finished. However, a Kanban board works like a stream of tasks. Team member pick tasks from the continuous stream and no grouping is needed.
Technically nothing stops you from creating an epic report from issues you manage on a Kanban board. Better Excel Exporter can create an epic report if you use a Kanban board too. Collect the issues you have on the Kanban board in the Issue Navigator. Then follow the steps above for export your epic report for a Kanban board.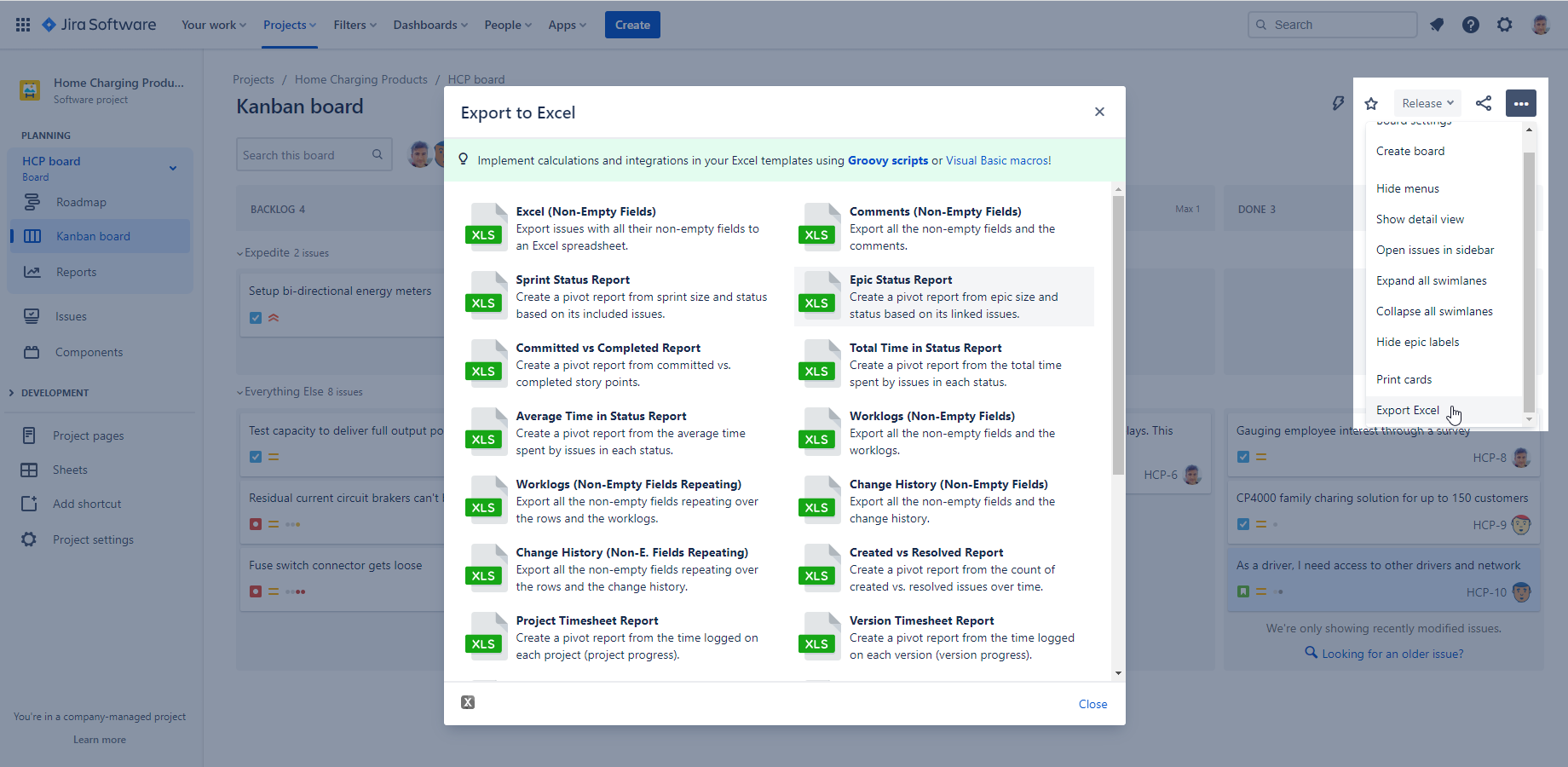 If you already have a report on a dashboard that shows epic progress, you can alternatively export your dashboard to PDF.
Jira epic report by user
An epic report can also display assignee-specific information. The Better Excel Exporter's Epic Status Report contains the assignees as well, so it can be used as a Jira epic assignee report.
To filter the Jira epic report by user:
Export an Epic Status Report with Better Excel Exporter.
On the pivot table view display the Assignee field values.
Set the Assignee field as a filter on the pivot table.
Select the user you want to see the report for.
You can report on individual users and understand how many issues they have completed, in progress or not estimated from all their assigned issues.
Next steps
Now you know how to access the built-in Jira Epic report and how to export epic report in Jira. With Better Excel Exporter, you can even export an epic report from a Kanban board or further tweak your reports to create epic reports by Jira users. Start a free trial of Better Excel Exporter to get the Epic Report template (and many more) by default!